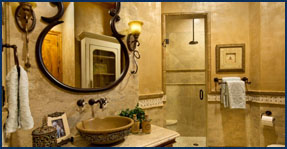 Adding fresh paint to your walls makes your home come alive in a whole new way. The paint color that you go with determines the entire ambiance of the room and dictates what other color schemes and decorative pieces will or will not fit. By hiring a professional, you are ensuring that this paint job perfectly captures the design and the vision that you had in mind for your home.
But, what if we were to tell you that your home had the potential to be transformed by far more than a basic paint job? By adding a faux finish to the painting process, you can bring a whole new level of texture and movement to your walls and various other painted surfaces. Adding faux finish to your home provides an instant elegance, adding warmth and depth that is unmatched by other paint or wallpaper applications.
This hand crafted and personalized translucent paint finish gives homeowners that sense of individualized luxury and detail that they so desire. And, if you want to achieve a job well done, then you have to keep in mind that there is a science behind the process, a methodical approach to the exact way in which the finish must be applied and paired with the preexisting surface. Many homeowners do their research, grab a free weekend, and attempt to do their own little DIY version of faux finishing a kitchen wall or a new coffee table. However, we have found that many who attempt such a task are left with a disappointing finished product or a product that is incomplete. This painting process is much more complex than most people realize, and that is why it is something that is often left to a professional who has a wealth of relevant experience.
At Liberty USA Painting, we understand that your home is your hard-earned investment and that you want it to look its best. That is why every painting project that we take on is handled with the utmost care and precision. The priority that we place on customer satisfaction and dependability is what makes us the foremost painting company that is hired again for the next project or is recommended to a friend. We take great pride in the painting services that we provide, and we know that our expertise and attention to detail is something that your new home or upcoming remodeling project desperately needs.
Give us a call today at 469.919.1333 to learn more about how our faux finishing process works and to hear more about all that we can do to transform your home into the vision of your dreams!