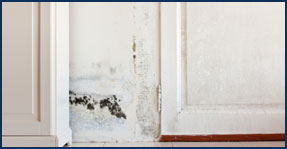 One of the biggest investments that we will ever have is our home. It is the place that holds our possessions and houses some of our greatest memories. A big part of owning a home is maintaining it, and there are certain things to watch for that could easily cause major damage if not handled professionally and appropriately. Water can sometimes affect your home in a powerful and disruptive way, and, if you are not watching for the signs of damage and acting accordingly, then your home and your wallet could be significantly impacted.
From simple seepage through cracks to leaky pipes and full blown flooding, our team at Liberty USA Painting has seen it all when it comes to water damage in local Dallas-Fort Worth homes. The water can sneak up on you and slowly affect your drywall and internal framework, or it can sometimes rush in with a vengeance. As a homeowner, it's important to know what to watch for and who to call if such a significant issue unfolds, and our team of experts is proud to be the best choice for receiving those calls.
Our attention to detail and depths of experience in dealing with interior home repair due to water damage makes us very dependable and well-qualified to handle whatever issue may be wreaking havoc upon your home. In most cases of water damage, there will need to be quick and methodical action taken to address drywall damage. The drywall will need to be dried out thoroughly in hopes of adapting to a simple method of repair rather than a major undertaking and reconstructing of your home's interior.
In many cases, the affected area only requires some new taping, mudding, and a fresh coat of paint. The level of damage, however, can best be assessed by a professional, and it takes a dependable and solid company to come in and make necessary repairs so that the work is done seamlessly. Taking on such a project on your own typically ends up with mismatched paint colors or repairs that will not stand up to the test of time, and this is not an area that you want to take chances on within your residential property. You want only the best for your home, and that means that you need Liberty USA Painting to help in determining just how much water damage has been done and what painting tactics can be utilized to restore it to its original beauty.
Give us a call today to learn more about how effectively our team of painting experts will come to your aid and take care of necessary aesthetic modifications in your home!