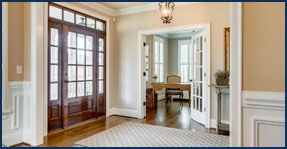 At Liberty USA Painting, we specialize in transforming the interior of your home. Our complete surface preparation and professional application techniques make our company, the company of choice for your project.
Our interior procedures are completed in this order:
Preparation – protect flooring with plastic, move furniture, cover applicable light fixtures, remove switch plates and outlet covers.
Blinds and/or Curtains – We can remove blinds and/or curtains however we will not be responsible for damages incurred during the removal or re-installation process.
General Repairs – complete the repairs listed on your estimate sheet.
Paint Application – we will begin the painting process and devote careful attention to an even, seamless coat. Final touch ups can be completed at the end of the project.
Clean Up – your home and property will be thoroughly cleaned up and all debris will be carefully disposed of.