At Liberty USA Painting, we dedicate our efforts on enhancing your home's exterior appearance so it will shine for years to come! An excellent paint job not only brings out the beauty of your home but it also serves as a barrier against the elements of Mother Nature.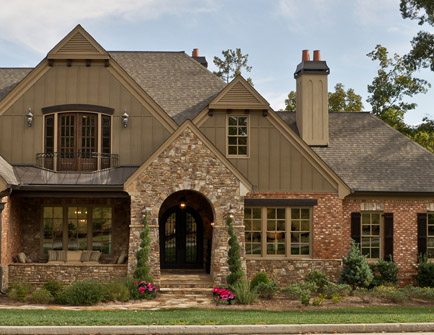 Our exterior procedures are completed in this order:
Power Washing – clean and prepare the surface to be painted by removing dirt, mold, mildew, pollutants, pollen and dust. Power washing also removes most chalking. Chalking is a naturally occurring breakdown of the paints skin surface from the sun's ultraviolet rays.
Minor Wood Repair – minor wood repair or replacement is needed on most exterior jobs we do. All loose boards will be nailed down and rotten wood will be replaced.
Spot Priming – we spot prime all carpentry work and appropriate surfaces.
Caulking – gaps and cracks are your home's worst enemy. Not only do they reduce energy efficiency by creating drafts but they allow pests and moisture easy access into your home. We caulk all seams, joints, cracks and nail holes with a 45 years rated poly seam caulk.
Finish Coat – once we complete the power washing, carpentry work, spot priming and caulking, we will begin with the painting process. We use superior paint products supplied by local Sherwin Williams stores.
Clean Up – your home and property will be thoroughly cleaned up and all debris will be carefully disposed of.